We spent the weekend exploring the Mendocino Coast from MacKerricher State Park on the North coast to Bowling Ball Beach down South.  The Mendocino Coastline is nothing short of spectacular! The weather was off and on light rain with occasional glimpses of sun, making for some interesting photography. If you are visiting the area be sure to stop by the Mendocino Coast Photographers Guild Gallery in Fort Bragg. Ron Lee Valley & Patrick Davis were very helpful in giving us location ideas and a walk through the gallery provided inspiration. The Mendocino Coast is a landscape photographers dream location, with endless opportunities and locations to shoot. Our 3 day trip was entirely too short…
Point Arena Lighthouse shrouded in fog
Canon 1D Mark IV AV Mode, 70-200mm @ 200mm .6sec f/32, ISO 100
"Stairs" down to Bowling Ball Beach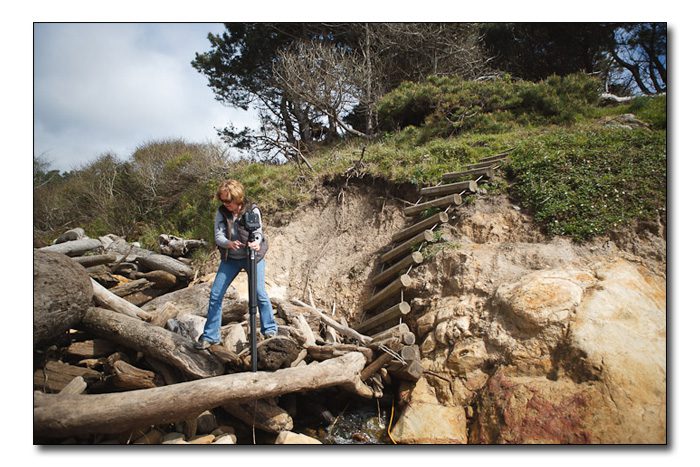 Bowling Ball Beach – You have to time your visit here with the low tide. Ideally, it would be great to be here when low tide is just before sunset with a clear horizon.
Canon 1Ds Mark II Manual Mode 15mm 1/60sec @ f/18 ISO 100
Canon 1Ds Mark II, 16-35mm @ 16mm .4sec f/22 ISO 100
Canon 1D Mark II – Manual Mode 24-70mm @ 24mm 4sec f/22 ISO 100 ND Filter
White-crowned Sparrow – Interesting tid bit on this species is each group has a distinct dialect. One group sings "I-I-I-I gotta go wee wee wee now". This bird we could hear long before we could see it, though we did not recognize its song.
Canon 1D Mark IV AV Mode 500mm f/4 w/ 1.4 TC, EFL 700mm  1/250sec f/5.6 ISO 400
The garden of our B & B
Canon 1D Mark II AV mode 24-70mm @ 70mm 1/1250sec f/2.8 ISO 100
Packard House B & B – Mendocino – We highly recommend the Packard House, fantastic service and great breakfasts! We met lots of interesting people from near and far over the weekend. Our room was comfortable with a great view of the town and Pacific Ocean. Can't wait for a return trip!